Intelligent, Low-Voltage LED Emergency Lighting

With Hochiki's vast expertise and heritage of cutting-edge design and technology, has developed FIREscape, the unique, highly cost effective and environmentally friendly emergency lighting system that incorporates the latest in LED and battery technologies. Designed, manufactured and tested in the UK, the system is based around an emergency lighting control panel with battery back-up and features addressable, self-contained luminaires and signage interconnected via traditional extra low-voltage cabling.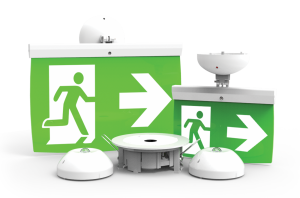 FIREscape is simple to install, requires little maintenance or manual testing, and uses less than 5% energy consumption compared with conventional lighting.
Even at its peak lumen output, the LED draws only 80% of the recommended maximum energy level which minimises energy consumption and maximises LED lifespan.
Self-contained backup batteries negate the need for expensive fire-rated cabling, and in turn reduce the associated installation costs.
Each luminaire can be programmed to operate at any one of seven levels of light output, making them even more energy efficient when used as security or night-time lighting. They will automatically default to maximum light output should a failure in the 230 V supply be detected.